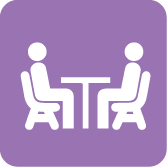 Accessories
Whether children's playground, high rope course, bouldering area or outdoor fitness trail: the KristallTurm® furniture will suit every attraction. But the seating, tables, loungers and co. are not only for leisure facilities. Also, the bank in front of your own home or the lunch table on the terrace give a very special atmosphere. There are no limits to the possibilities of variation.
Customized production according to your needs
We manufacture the right equipment for your leisure facility and are happy to respond to your requests. In addition to the seating and tables, we also offer information boards in various designs.
Matching our playground equipment or the high rope courses, we manufacture our furniture from larch and robinia wood. Thus, they are very weather resistant and durable.
We also produce the KristallTurm® furniture according to your needs.
Request a personal offer
Seating
Benches and tables for groups and individuals, in wood and steel. The size can be flexibly adapted to any surface and requirement.
Information boards & signages
Frames for your information signs or information boards on theme trails. The panels can be equipped with a roof or glass cover and are thus protected from rain or snow. Especially information maps for thematic trails, in parks or on forest trails can be placed well visible and at the same time protected.
Pavilion
The pavilion can be used in a variety of ways. It can be built in different versions according to the requirements and protects against wind and weather:
Roof only
Roofed floor platform
Fully or partly enclosed side walls
Roofed BBQ area
Often, the pavilion is used as a covered seating on children's playgrounds or in parks. But even for attractions that require entrance fees, for example, the enclosed pavilion can be used as a ticket booth or storage facility for equipment.