Mobile training ladders
We developed the mobile training ladders in cooperation with health trainer Joachim Schlobben. They are universal in application and can be build up virtually anywhere. The ladders can be set up in different versions using various connecting pieces. The training ladders are especially well suited for companies, public institutions, sports clubs and fitness chains. They are intended to provide balance in day-to-day life one the one hand, and may also be used for incentives or other group events.
Setup and variation possibilities
Technical data:
Ladder length: 3 m
More than 30 exercise versions - no limits on the examination
Versatile system consisting of 5 base elements
Easy handling
We include detailed setup instructions with the training ladders. Training units with educated trainers can be booked as well.
  More information about Step Up Movement System can be found on the
Step Up webpage.
Climbing tree
Our special from the segment of climbing is the single attraction climbing tree.
The Climbing tree is especially popular amongst the youngest. It is particularly suitable for challanges. (Who reaches the top first?) At festivals and events it is a highlight for all children and it is easy to supervise.
The Climbing tree is a 10 m high naturally grown tree trunk. On one side the existing branches serve as holds and treats, while the other side is equipped with artificial climbing holds. Climbers are belayed with TOPPAS automatic belay devices. Due to its construction the Climbing tree is usable as mobile attraction. Setting up and dismantling is very fast. But it can also be fixed to the ground and used stationary.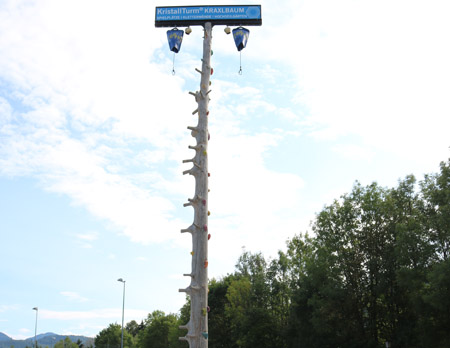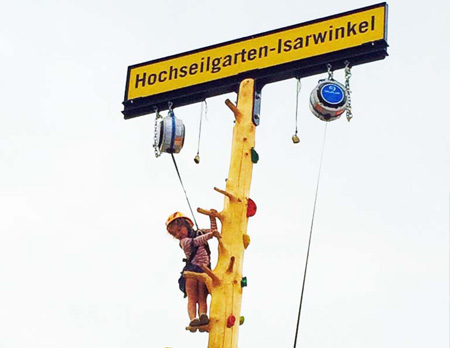 Swing boat
A well-known attraction, which has already brought a lot of fun to many folk festival visitors.
The swing boat is our highlight for every event. It can be used by children and adults. Here, the passengers are secured with a safety belt and can also hang in foot straps. The three swing gondolas can be occupied at the same time. One of the gondolas can even overturn, which triggers great joy and pleasure, especially with spectators.
Request further information