We build your individual high rope course with unique design!
There are numerous terms that describe our product: high rope course, climbing garden, aerial adventure park or even ropes course. But no matter what term you choose, the unique design combined with ultimate safety for the guests, efficient processes and great fun factor can be found in the KristallTurm® high rope course. Our systems can be installed indoors or outdoors and are suitable for all sites, especially also for urban spaces. The installations can be expanded and equipped with new attracions at any time.
Request an offer
---
KristallTurm® delivers a complete package, from competently answering your initial questions to annual inspection and maintenance according to the TÜV standard of your high rope course:
Certified steel construction company
We are a certified steel construction company of the execution class 2 (EXC 2), according to EN 1090.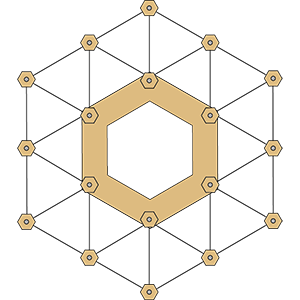 The 18-pole KristallTurm
®
is the luxury version among the KristallTurm
®
high rope courses. It can hold 160 climbing guests at one time in its large version. Due to the space-saving layout, this model only requires an area of approximately 900 m2.
Many visitors – small space
The 18-pole installation can have up to four levels and therefore reaches a maximum height of 20 m. Unlike the smaller models, the platform is installed in the centre of the structure here and can therefore be mounted at any desired level. The large outer and inner surfaces offer plenty of space for add-ons.

The 14-pole KristallTurm® has the same visitor capacity as the 18-pole KristallTurm® but only takes up approximately two thirds of the space. Unlike the 18-pole KristallTurm®, it fully utilises its footprint so the revolving walkways are eliminated. The event platform can also be mounted as the fourth level above the climbing elements.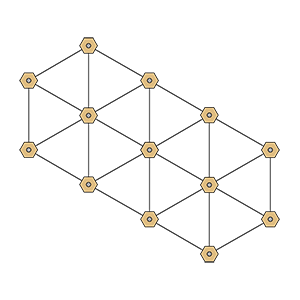 The 13-pole KristallTurm® is suitable for narrow, long sites. Similarly to other sizes the event platform can be integrated as a fourth level. So it provides the opportunity to watch other climbing guests or to enjoy the view.


The 12-pole KristallTurm® can have up to 69 stations and offers space for 90 climbers at one time. Its layout consists of two attached 7-pole KristallTurm® installations.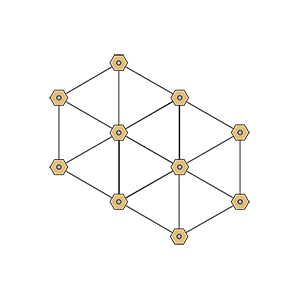 The KristallTurm® 10-Pole contains 10 poles with 2 or 3 climbing levels. Up to 75 visitors are able to climb in it at a time.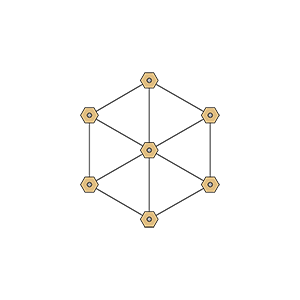 The 7-pole KristallTurm® is the ideal solution for smaller sites. Its compact base frame only takes up an area of 14 m x 16 m, yet it offers space for up to 50 persons. You can later expand the installation into a larger KristallTurm® high rope course at any time. As with the larger versions, we can also install an event platform here that is then on the fourth level.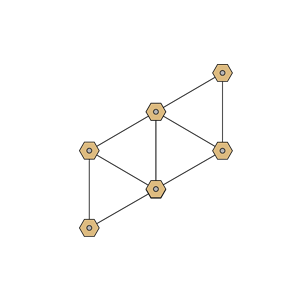 The 6-pole KristallTurm® is one of the most space-saving versions. So it can be installed on the narrowest of sites and only requires a supervisory staff of two, even at full capacity. Even though it has nearly twice as many stations as the KristallTurm® 4-pole, its footprint is only 30 m2 larger.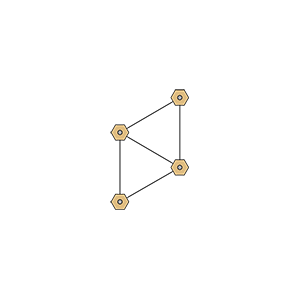 As the smallest possible KristallTurm® installation, this setup is built with up to three levels and offers space for up to 20 persons. The small required space of just 8 m x 14 m keeps the investment volume and management effort very low. The KristallTurm® 4-pole is especially well suited for expanding the recreational offering of existing facilities such as climbing halls, hotels or shopping centres. Since it is fast to set up, it can also be installed for a limited time within the scope of major events.

Forest ropes course vs. KristallTurm high rope course
A KristallTurm® high rope course is the flexible alternative to a forest rope course. It is free-standing and therefore not tied to existing trees. The service life is several times longer, inspection results are more reliable, less maintenance is required and it is easier to carry out. In contrast to forest rope courses, there are no risks due to falling branches or rotting trees in our high rope courses. Moreover, no trees are injured or damaged either.
Our high rope course requires less personnel since it is compact and clearly laid out.
Individual high rope courses
We always plan the station elements jointly with our customers. In doing so, we strive to create each high rope course under a special motto of regional relevance or according to a specic theme. Furthermore we plan and build our high rope courses according to the European standard EN 15567 .
Approval of every installation
TÜV Süd can approve every installation before it is put into operation. This conforms that the KristallTurm® high rope course meets the highest quality and safety standards. Our installations require very little maintenance since we only use materials of high quality.
Patent protection ensures an absolutely unique selling point for investors and operators.
Spectacular experience
Climbing is a fun and sports activity that appeals to everyone: not just kids, but also adults, teenagers and families. Visitors can expect an experience full of fun, exercise and challenges and finish their day with a sense of achievement. Professionally trained staff is there at all times to help and give guidance, which enables guests to manage even challenging climbing elements. By varying difficulty levels of the different climbing elements, the operator can ensure that truly everybody will enjoy the aerial adventure park experience, and make this day unforgettable for each visitor.
Climbing fun for visitors - profitability for operators
The KristallTurm® high rope course is not only an experience for the visitors, also operators and the region profit from the visitor traffic of our facilities and develop a tourist magnet. Thus, our facilities can be operated both as a standalone attraction as well as in the context of a theme park or another concept. You can create an additional visitor attraction by the numerous extensions such as the giant swing, the children's course or the event platform.
Individual choice of course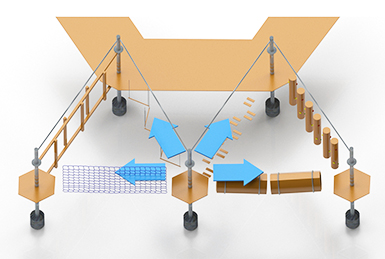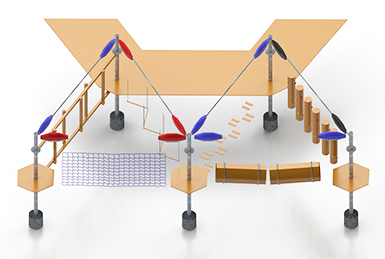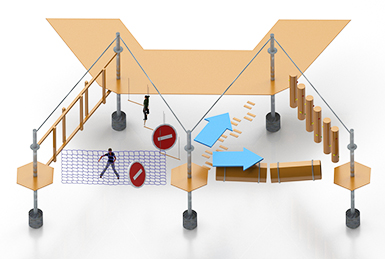 The high ropes course is used like an artificial via ferrata. The whole time, while they climb through the high rope park, visitors are attached to a safety line with a safety system for via ferratas that has two communicating carabiners. At the same time visitors can choose their own way (1) through the course as well as the difficulty (2) of the next element. If a station is blocked, they can move on to another element without problems (3). Bottlenecks and long waiting times are eliminated. Guest enjoyment is maximised along with capacity utilisation for the operator.
Variety of business concepts
KristallTurm® high rope courses can be realised as stand-alone attractions or integrated into
numerous business and operating concepts:
Expansion of climbing halls or sports facilities
Addition to existing recreation or amusement parks
Summer attraction in winter sports regions
Active and sports offers in hotels, schools or social facilities
Special attraction in shopping centres
Recreational offer of municipalities/cities in public parks and facilities
Flexibility
Suitable for all climate zones
Outdoor: Weather-resistant, even close to the ocean, at higher altitudes or in urban areas
Indoor: Adaptable in height, extent and shape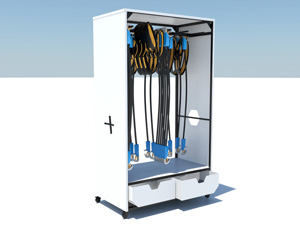 To store the Personal Protective Equipment, we offer a harness stand for 30 sets. The rollable trolley is made of coated aluminium. Four drawers provide additional storage and each drawer holds 20 kilograms of weight. The trolley has the dimensions 0.7 m x 1.3 m and is 2.2 m high.
Customize your high rope course
Individual layout

Our structure is based on standardised modules of triangles. Any shape can be created by combining triangles.

Themed climbing elements

The high rope course can be customised with individual mottoes or themes, making it truly unique. Therefore, our creative team keeps coming up with new ideas and themes that work for the respective site. In close dialogue with our customers, we jointly develop ideas and prepare proposals and designs that lead to unique climbing stations. We even entertain outlandish ideas such as automobile chassis or snow groomers. Moreover polyester rope and hercules rope available in several colours enhances the appearance of the high rope course.

Colour coating

Painting the steel components in various colours completes the customisation. Such a coat of paint can also provide additional protection against corrosion, for example at sites close to the ocean with extremely salty air.

Theming

A theme can be chosen for the installation as a whole, for example a pirate ship or a jungle. There are no limits here on the imagination. Suitable decorative elements complete the concept.

The available space can be used even more efficiently with optional equipment and add-on attractions that provide an even more exiting experience for your visitors.