Our playground equipment is available in a vast variety of creative elements for all ages, from small children to teenagers. As we do with all our products, we go to great lengths to ensure that the materials used are of high quality and child-friendly and that the equipment meets the highest safety standards. Our playground equipment mainly consists of natural materials like Robinia or Larch wood, in combination with steel and UV-resistant Polyester rope and Hercules rope. We plan and build our elements according to the European standard EN 1176. So they fit all requirements for public playgrounds. A variety of leisure facilities, such as restaurants, swimming pools, parks, schools and kindergartens benefit from children's playgrounds.
1) Project start
On-site-inspection or on the basis of photos and layouts by our project manager
Definition of key aspects: Space, budget, time frame
2) Concept development
Developing ideas together with our designers
Diverse and age-appropriate games
Efficient use of space
Highest safety standards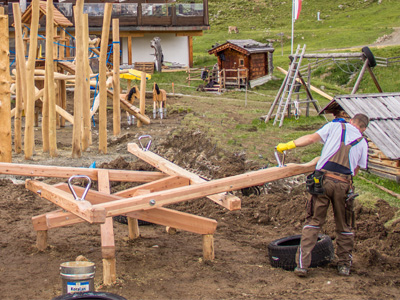 4) Execution
Construction of the elements in our own workshop
On-site-fitting
Approval by TÜV if required
Individual playground equipment
Play houses, rope games or climbing towers - our creative staff plan every playground and every equipment individually in close consultation with the customer. This is the only way to design a creative play area, which takes the needs of the little and big visitors into account as well as the given site conditions. Usually we try to adapt elements from our high ropes courses as playing equipment to encourage children to diverse movements. So every time new and extraordinary compositions emerge, that make your playground outstanding. On demand, we design play areas for different themes like pirates ship, forest or fairy tales. New compositions are constantly being created, such as a water playground, a ball track or a large adventure playground with climbing towers up to 9 meters high, which are connected by various balance elements and inspire every child.

Inspection according to EN 1176
According to the European standard for playgrounds EN 1176, playgrounds must be subject to an annual inspection by a certified playground auditor.
Robinia
The wood of the robinia is heavy and hard, but also viscous and elastic. It has an extremely high resistance against dry rot and is very impermeable to liquids. So it guarantees best conditions even after years of use.
Larch
Larch wood is the heaviest and hardest european pinewood, which is used as timber wood. Therefore, it is often used as construction timber. Due to the high resin content, larch wood is particularly resistant against water.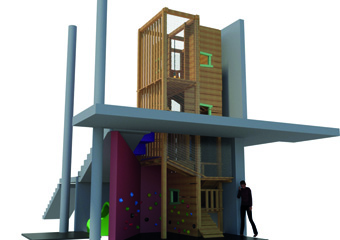 Seesaw Ensemble
The seesaw Ensemble is a inovative designer seesaw for 2 or 4 persons, who can use the game simultaneously. Through its extraordinary design it trains balance and team work. The four arms intertwin in a way that always two diagonal arms are in the air.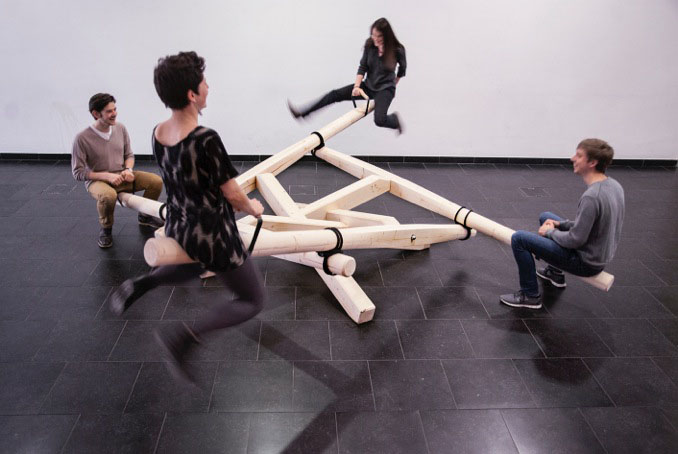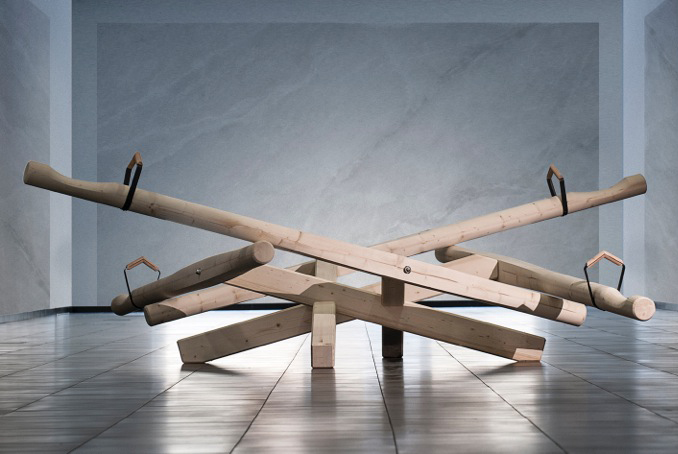 Wooden animals
Our wooden animals perfectly supplement with playgrounds. They are an ideal seat for children and parents. Depending on the theme we can design other animals to depict for example the African desert or a European farm. Small children especially like horses but other variants like deer, donkey or zebra can inspire.
Sitting height: ca. 80 cm
Material: Larch

Children's playground Atoll Lake Achensee
In the spring of 2018, in Maurach at Lake Achensee, Austria, we converted the 31 meter long, former passenger ship MS St. Benedikt into a children's playground. The ship can be reached by ladders, climbing nets and ramps. Closely following the theme "shipping", the flag is hoisted on the deck and children can play captain at the large steering wheel on the driver's cab. A big ship's bell and an anchor, that can be pulled in and released, make the sailor feeling perfect. Also, the entire range of play elements around the outside of the ship is adapted to the theme. Thus, there is a play tower connected to the ship by a suspension bridge, six swings made out of buoys for children to sit on, a sandbox in the shape of a boat and a zip line, where the little ones can ride from a platform to the ground on a buoy. In addition, a low ropes course with a total of 20 climbing elements is placed around the ship. The elements resemble a high rope course for balancing or move hand over hand and encourage balance, coordination and agility. The playground is rounded off by a so-called bird's nest tree, a large steel pole to which several nest swings and climbing nets are attached.
At the holiday farm Hussnhof in the Upper Bavarian town of Sachsenkam, there has been a varied playground since spring, amidst an idyllic country meadow. In order to be able to offer something for all children from the toddler to the early adolescence, we have used various elements there. For the little ones there is a small playhouse with toddler slide and sandpit. For older children there is a trampoline embedded in the ground, as well as a robinia climbing frame and a tree house with play tower and slide. The playground was rounded off with a Flying Fox.
On the children's playground in Krün we've built a ball track in 2018. The track consists of several stations that must pass the ball on the way to the finish. At the beginning the ball is transported via a screw conveyor to the start. From there, it takes her way through the course. The children can follow, divert or stop the marble. At the end, there is a wobble box that can be moved to steer the ball through the maze. There is also a conveyor belt, which the children themselves can operate by hand and move the ball up the belt. The marbles for the track are made of beech wood. With a diameter of 3 cm, they can not be dangerous for the children. Visitors can buy the balls on a "bubble gum ball machine" for one Euro. The proceeds flows 100 percent into the preservation of the playground.